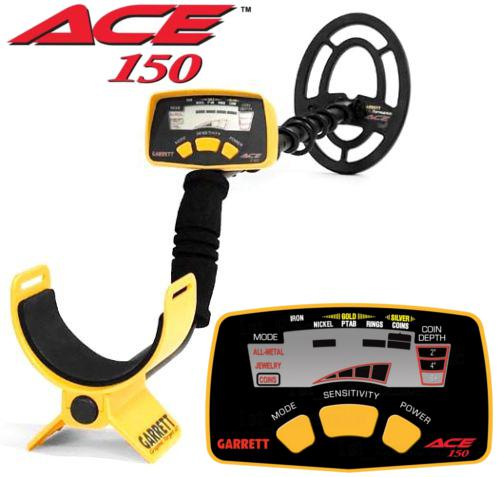 "Garrett Ace 150.
Jak wiadomo, jest to pierwszy wykrywacz z serii Ace, który cieszy się dość dużą popularnością. Posiada 3 opcje poszukiwawcze : Wszystkie metale (All-metal), Biżuteria (Jewelery) oraz Monety (Coins). Na trybie All-metal, nasz kanarek będzie reagował na każdy metal, od żelaza po srebro co może denerwować bo jak wiadomo w Ziemi pełno gwoździ i inncyh żelaznych śmieci, w takim razie przechodzimy na tryb Jewelery, chyba najlepszy tryb do poszukiwań, eliminuje nam żelazne śmieci co umila nam pracę. Jak wiadomo, Polak lubi wypić od pamiętnych czasów, otwiera flaszkę odkręcając aluminiową zakrętke i wyrzuca ją na pole, a my idąc sobie w poszukiwaniu monetek natrafiamy na tzw. "polmosa" i denerwujemy się. Tutaj z pomocą przychodzi nam tryb Coins, który eliminuje aluminium co może spowodować trochę strat bo jak wiadomo w zcasach PRL dużo monet było produkowanych z aluminium ale nawet na trybie Coins od czasu do czasu trafi się Polmosek.
Następną sprawą, o którą jest dużo pytan to - osiągi. W prawdzie mówiąc nie wiem jakie są dokładne zasięgi dla poszczególnych rzeczy no ale postaram się co nieco o tych zasięgach powiedzieć. W co niektórych wątkach na tym forum można zobaczyć kanarkowe trafienia z pokazaną głębokością na jakiej leżał dany fant. Jeśli chodzi o żelazne rzeczy większych rozmiarów, które Ace sygnalizuje jako kolor migając bardziej z prawej strony na skali to z metra powinien je "wyczuć". Wspomagam się tutaj wypowiedzią kolegi tyfusa, który trafił miskę na głębokości 65 cm, dlatego myślę, że do metra kanarek nam znajdzie co nie co. Może metr to nie dużo ale jest to wykrywacz do drobnicy a nie do militarki. Co do zasięgów na drobnicę. Pamiętam jak ktoś nie dawno pokazywał monetkę trafioną na 20 paru cm. Z włąsnego doświadczenia wiem, że Ace 150 dobrze widzi drobnicę, np. 2 Pfennigi na ok. 20 cm, kula z muszkietu na ok. 20 paru cm. itp. itd. Znajdą się tacy, którzy powiedzą, że ich wykrywacz znajdzie takie rzeczy na 30-40 cm, ok zgodze się, ale pamiętajmy, że Ace 150 jest jednym z tańszych markowych wykrywaczy i nie możemy od niego żądać cudów.
Teraz troszkę o wadach 150-tki. Niewątpliwie denerwująca jest głośność wykrywacza, której nie można zmienić chyba, że ktoś pobawi się w elektryka i zamocuje regulator głośności. Drugą lecz nie tak bardzo denerwującą wadą jest brak Pin-Pointa czyli systemu, który pozwala nam precyzyjnie namierzyć fant w Ziemi. Do braku PP można się przyzwyczaić i nauczyć namierzania znaleziska bez niego. Dużo użytkowników przyczepia się do barwy osłony elektroniki wykrywacza, dzięki której dostał miano "kanarka". Żółta obudowa rzuca się w oczy lecz można łatwo ją zamaskować po przez pokrowce. Ogólnie Garrett Ace 150 jest polecanym wykrywaczem za nie dużą cenę i ja jako użytkownik również mogę go polecić.
"
Opis znaleziony na innym forum
Cena: ok 580zł
Można kupić m.in tutaj :
http://wykrywaczemetali.com.pl/wykrywacze-metali/wykrywacz-metali-garrett-ace-150-3682